Science Writing Community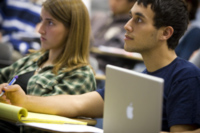 Welcome to the Science Writing section of NuWrite. This community provides writing advice and resources gathered from Northwestern's Program in Biological Sciences, from a Writing Program / Weinberg Professional Linkage course called Writing and Speaking Science, from NU's Science Research Workshop (SRW) and Science Research Program (SRP), from Global Health Studies and from a STEM program for graduate students called Reach for the Stars. We are eager to post resources and advice for students and faculty in all areas of science and engineering. Please feel free to contribute to this site by contacting the Writing Program.
Faculty who would like advice and sample assignments about teaching writing in a science course should also check the "Faculty Only" Resources in the Freshman Seminar Community.