Writing in Psychology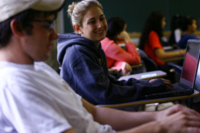 This section of NuWrite provides resources for (1) students who need to write in the field of psychology and (2)  psych instructors who want to help students learn to write more professionally and effectively. The information and links have much in common with other advice about writing on NuWrite, especially in Social Science Writing and Science Writing.
Writing an Empirical Paper in APA Style
APA Style Guidelines for a Lab Report
APA Style & Citation Guide for Psych Reports
If you have material you would like to add to this site, please contact H. David Smith in Psychology or Jacquelyn Bailey in the Writing Program.